Our company frequently utilizes an environment-friendly wood composite known as Extira® for most outdoor routed signs that we build. (See table below for details.)
A 3D-level CNC router provides us with an edge that other sign shops in the area are unable to match. This allows us to use a greater variety of materials and implement products with unusual shapes and designs.
Our company knows no bounds to production. We enlist the efforts of brick and stucco masons and other construction pros to complete large scale sign fabrications.
Our skill set also includes manufacturing regulatory ADA signage for the visually impaired.
A full service paint department in-house allows a custom touch to a client's own design abilities. Many clients visit our shop for advice and inspiration.
Products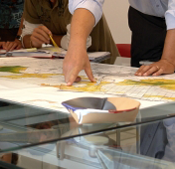 FREE CONSULTATIONS
Both managers and design staff respond to future and current clients with consultation services. We come to you, to assess your property or place of business and discuss your signage needs. We'll take all necessary measurements and photos, educate you about required or preferred materials and fabrication methods, and provide information concerning sign code regulations.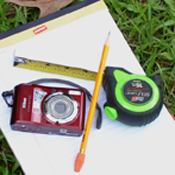 SURVEYS
Staff members are experienced in the process of accumulating all of the necessary details to develop a complete sign package for your property. We'll walk the property with you and acquire all photos, dimensions, and color matches. A full printed report will be compiled and issued to you after this process. During the survey, we listen to your signage expectations, and offer professional advice.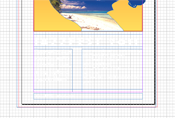 DESIGN SERVICES
Our design team is comprised of creative pros and graphics technicians alike. Original art and layouts, digital mock-ups, wireframe renderings, full color proofs, and innovative ideas and conceptual processes take place with your ongoing input and approval. We utilize Omega Composer and FlexiSign Pro sign design programs, in union with the Adobe Creative Suite. Our designers can accept any digital file format to help actualize your communication goals.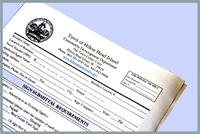 PERMITTING
(Click Here To Access Hilton Head Permit Form)
Many town, city and county sign ordinances demand cumbersome methods of gathering the required information needed to approve your signs. Let our knowledgable staff do the work for you. We not only piece together the submission essentials into a deliverable format, we will represent you and your business at review board meetings and through in-person design sessions with public officials.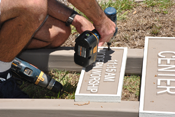 FABRICATION
In addition to being the only sign company operating a CNC router in southern Beaufort County, we offer a fully equipped metal and wood working shop that provides the capability of fabricating custom moldings, castings, spindles, finials, and other cabinet grade elements. Welding, brazing, and machining of custom metal components and wrought iron are accomplished in-house.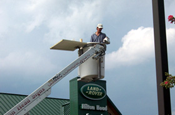 INSTALLATION
Our company shop personnel have historically performed daring feats to accomplish almost any sign installation- be it hanging by ropes inside a lighthouse, or burrowing into soil rical service and neon repair and their installation. A bucket truck facilitates inaccesible work up to 36 feet above ground. And we take on any vinyl sign application from storefront windows or roof top awnings, to large moving vans and employee name tags.